Members Only Page – (Club contacts, By Laws, Show guidelines, etc)
Upcoming Events
December 11 – Alamance Region Member's Christmas Party at Shiloh Presbyterian Church's Scout Hut (2638 Grand Oaks Boulevard, Burlington, NC) ! Dinner and Entertainment! The meal will be catered by Occasions Restaurant, and the entertainment will be by club membership (bring your singing voices). Bring a dessert to share if you can. The meal will be $15.00 per person, and you can pay Jeannie Johnson at the party.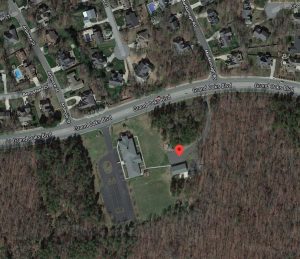 ---
Be sure to take your antique car out for a "single car tour" if possible! Send photos and we will upload to our website. Email photos to [email protected]
RECENT ACTIVITIES
November 13 – Alamance Region Annual Business Meeting. Covered dish meal, hosted by the Gaithers, followed by our Annual Business Meeting to elect officers and board members for 2022.
October 30 Tour to S&T Soda Shop in Pittsboro! 37 members and friends met at the Carli C's in Graham, and enjoyed a beautiful morning tour to Pittsboro. Lunch at the S&T Soda Shop was really good, but the ice cream was even better! One scoop was all I could handle. After a tour of the street festival, and a walk back to the parking area, our club members made their way back home on their own time. We had great participation on this mini tour, and everyone had a great time. Thanks to Henry Gaither for setting up this activity!
August 28 Alamance Region Annual Show! Pictures coming soon! We were blessed to have great weather, and plenty of eager participants with beautiful vehicles! It was really great to finally be able to gather with old friends and make new friends while talking about and enjoying our vintage vehicles. Thanks to all who helped organize and judge, our Sponsors (see the bottom of this page), and especially all of you who brought out your cars!
May 15 Alamance Region Meeting – Great American Iron Poker Run and Ice Cream outing!
Great Poker Run outing, visiting many of the American auto dealerships in Alamance County, touring the beautiful countryside between Burlington and Julian on NC 62, and ending up at Homeland Creamery for a tasty, cold treat on a warm day. After a brief business meeting and some much needed fellowship, we all meandered back toward home.
April 17 Alamance Region Meeting
Alamance Region meeting @ Shiloh Presbyterian Church Scout Hut. We had a great turnout for a hot dog lunch and birthday celebrations for Herb Kluttz and Floyd Smith! Several members and guests drove their older cars to the lunch, with no known casualties this time! The weather was great, and the facility was really nice. Thank you to Shiloh Presbyterian Church and BSA Troop 19 for allowing us to use their facilities, and thank you to the Kluttz family for hosting the meeting. Pictures will be posted soon.
Nov 14- Mini Tour to Mebane Ridge Assisted Living
On November 14, we had ten vehicles that participated in the Mebane Ridge Drive Thru. We met at Alexander Wilson Elementary School at the intersection of NC119 and NC54, traveled to Mebane Ridge on NC 119, and then back to our clubhouse via Swepsonville, Bellmont, Eli Whitney, and lots of nice backroads. Those who drove their old cars were: Larry Coble, Herb Kluttz, Billy Mebane, Rick and Debbie Holmes, Jerry and Judy Purchell, Patrick, Samuel and Asher Nance, Richard and Judy Holmes, Henry Gaither, Alan and Kathy Irwin, Bob and Jane King, and Elizabeth Coble brought up the rear driving a newer car in case anyone needed assistance. Unfortunately, Rick and Debbie Holmes had an issue while at Mebane Ridge, eventually limping home with a swapped out carburetor. After our meeting at the Clubhouse, the Coble's 1942 Cadillac would not start, so the Caddy got a ride courtesy of a roll-back and AAA. This is the life with old cars! But we still Love them!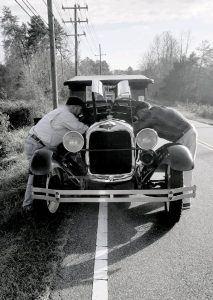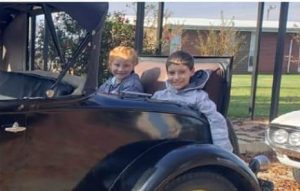 Jerry Whitfield of the Old Salem Chapter, NC Region sent in these photos of his unique and beautiful 1956 Plymouth Sport Suburban station wagon from his recent "single car tour" to a truly unique location: the old Shell filling station in Winston Salem. This unique building is on the National Register of Historic Places, and is the sole surviving structure of the eight original shell shaped stations built in the 1930's. If you are looking for an awesome photo op for your car, you can find this Shell station at Sprague and Peachtree Streets in Winston-Salem. The site is owned and maintained as a (very small) museum by Preservation North Carolina. Thanks for sending in these awesome pictures Jerry!

——————————————————————-
Click the link, and request to join our group
2019 Hospice Car Show
2019 Alamance Region Car Show
May 18, 2019, Downtown Burlington/Historic Depot
2019 Zooland Car Show
Aug 3, 2019, Downtown Asheboro
---
Join us on the second Saturday of the month (typically) with a covered dish dinner. Afterwards we have a program related to cars and plenty of fellowship and car stories!
Clubhouse Location:
3245 Whitesell Dr, Burlington, NC 27215
---
Check out the GAA Classic Car Auction site
---
Please visit our wonderful sponsors!