---
Alamance Region 2021 Antique Auto Show-

We are planning to be back in Downtown Burlington on May 15, 2021 to enjoy great fellowship and antique cars!
——————————————————————-
Be sure to take your antique car out for a single car tour if possible! Send photos and we will upload to our website. Email photos to [email protected]
RECENT ACTIVITIES
Nov 14- Mini Tour to Mebane Ridge Assisted Living
On November 14, we had ten vehicles that participated in the Mebane Ridge Drive Thru. We met at Alexander Wilson Elementary School at the intersection of NC119 and NC54, traveled to Mebane Ridge on NC 119, and then back to our clubhouse via Swepsonville, Bellmont, Eli Whitney, and lots of nice backroads. Those who drove their old cars were: Larry Coble, Herb Kluttz, Billy Mebane, Rick and Debbie Holmes, Jerry and Judy Purchell, Patrick, Samuel and Asher Nance, Richard and Judy Holmes, Henry Gaither, Alan and Kathy Irwin, Bob and Jane King, and Elizabeth Coble brought up the rear driving a newer car in case anyone needed assistance. Unfortunately, Rick and Debbie Holmes had an issue while at Mebane Ridge, eventually limping home with a swapped out carburetor. After our meeting at the Clubhouse, the Coble's 1942 Cadillac would not start, so the Caddy got a ride courtesy of a roll-back and AAA. This is the life with old cars! But we still Love them!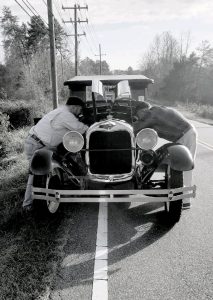 ——————————————————————-
Click the link, and request to join our group
2019 Hospice Car Show
2019 Alamance Region Car Show
May 18, 2019, Downtown Burlington/Historic Depot
2019 Zooland Car Show
Aug 3, 2019, Downtown Asheboro
---
Join us on the second Saturday of the month (typically) with a covered dish dinner. Afterwards we have a program related to cars and plenty of fellowship and car stories!
Note (7/15/2020): Monthly meetings suspended due to Covid-19
Clubhouse Location:
3245 Whitesell Dr, Burlington, NC 27215
---
Check out the GAA Classic Car Auction set for Feb 25 – 27, 2021!
---
Please visit our wonderful sponsors!